I've been using a Cisco Cius 7″ Android tablet for several months now and am starting to have mixed emotions about it. Initially, I loved it, especially since it now has 2.2.2 (Froyo) and Google's updated Play Store. It also allows side-loading of apps, so I have the Amazon Appstore, plus Cisco's AppHQ. Overall, it's fairly snappy, but is Atom-based (at 1.6GHz), so custom ROMs are pretty much non-existent.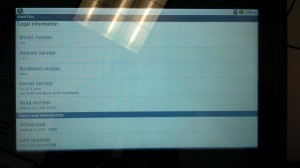 I've tried several key/button dances trying to get into recovery, without any luck. But I did somehow disable the charging light and haven't figured out to turn it back on (home button lights up when charging/charged). I tried using ADB to reboot into recovery, it just rebooted like normal, and without su, you can't do much with ADB. The standard rooting methods also do not work, unfortunately. That being said, I just wanted su for the sake of having su, and no other reason. Okay, maybe to try to overclock, or load different ROMs, or remove stuff I don't want.
It does have the VMware View client, which uses PCoIP, and it works well. Some of the Google framework must be stripped because Google+ cannot be installed, and I had to side-load a really old version to get it to install. I haven't tested beyond that, like hangouts and such.
The voice & video calls work well on our network (not published externally), and I like that I can use my BT headset to talk on my desk phone. I'll even receive emails on it (via EAS push) before they show up on Outlook.
What I did notice was how 3D rendering looks different in Quadrant versus my phone (MyTouch 4G), there are no textures in the graphics section. I've noticed some of the animated windows aren't as fluid as my Gtablet either. The Gtablet is Tegra 2, but still, you'd think the 1.6GHz Atom coupled with whatever GPU it has would be better.
Also, over time, the clock seems to drift. On several occasions, it's more than 2hrs off. I assumed it was because the tablet was off AND the battery died: however, after being plugged in 100% of the time over night, it was off. I unplugged it and left it until this morning and at 8:46am it thought it was 6:17am. That's a large difference.
What I also noticed is that over time it will disconnect from the VOIP network. I tried disabling & re-enabling wifi, but when disabled, I still have the wifi icon on the top. The only way I've found to get it back is a reboot. I didn't realize this was a windows tablet :P
The interface itself is kind of lacking, in that navigating an email you're writing (moving the cursor around to change stuff) is cumbersome and causes me to want to break things at times. All the more reason I like my optical track pad, much like the track ball on my old Nexus 1 and MyTouch 3G, maybe I'm just spoiled. The email client is 'eh' too, but I'm sure you could install whatever email client floats your boat, given it's available for the Cius.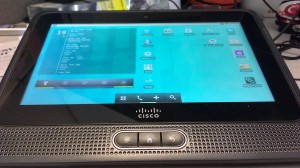 I still use the tablet, but I think it could benefit from more aftermarket support. Dell's coming out with a new Atom-based tablet with Win8, and I'd like to find a way to fit that on the Cius, but I just don't have the time.